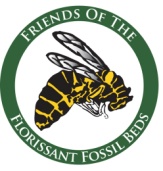 The Friends of the Florissant Fossil Beds, Inc. is a 501(c)(3) nonprofit dedicated to assisting the National Park Service in preserving, protecting, and interpreting the natural and historical resources of Florissant Fossil Beds National Monument. The Friends' primary mission is to raise funds and provide assistance to projects that preserve the fossils of Florissant, as well as to organize and promote programs and activities that support the Monument's educational, conservation, and scientific research objectives.
The Friends accomplish their goals through partnerships with a variety of local and regional organizations, including the Pikes Peak Historical Society, Colorado College, the Colorado Alliance for Environmental Education, the Gold Belt Byway, the Rocky Mountain Nature Association, and the Lake George Rock, Gem & Mineral Club.
Florissant Fossil Beds National Monument is a National Park Service unit located just outside the town of Florissant, Colorado, on the Gold Belt Byway, a National Scenic Byway. The park was established in 1969 by President Richard M. Nixon after local citizens and concerned scientists petitioned for the site to be protected from development due to its scientific importance.