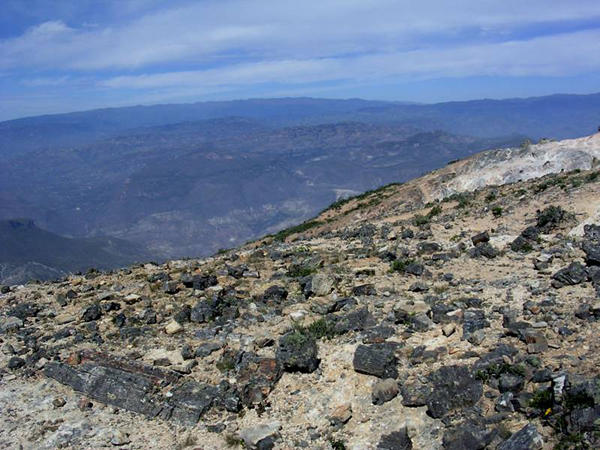 At the 20th Anniversary Celebration in August, the Friends announced a new partnership with the Asociación de la Preservación y Defensa de los Restos Paleontológicos del Distrito de Sexi (Association for Preservation and Defense of the Paleontological Remains of the District of Sexi; SEXI). SEXI is a grassroots organization devoted to protecting and developing for tourism and research the petrified forest of Piedra Chamana, located near the village of Sexi, Peru.
Piedra Chamana preserves a diverse assemblage of 39-million-year-old woods and leaves from the middle Eocene, and has important implications for understanding the paleoclimate and history of low-latitude tropical forests. The fossil forest is also important as a scientific and educational resource for the people of the region.
Florissant Fossil Beds National Monument paleontologist Dr. Herb Meyer and colleagues, including Dr. Deborah Woodcock of Clark University, have been providing assistance to the village of Sexi in setting up a program to monitor the fossil forest. Through a National Science Foundation grant, they were able to help arrange construction of a museum, and the National Park Service is currently assisting in exhibit design and brochure production.
The Friends hope to raise funds for SEXI that will be used for interpretive exhibits and posters, construction of a fence around the perimeter of Piedra Chamana to protect it from cattle and human impact, construction of a trail to the site. In addition, the Friends can offer information and guidance to SEXI on operating a park Friends group.
The Memorandum of Understanding will take effect upon the signature of the presidents of both organizations. It is currently being reviewed in Lima. The Friends hope this partnership will help enhance scientific knowledge, education, and conservation of this important fossil resource.
Friends President Steve Veatch presented further information about this partnership at the Geological Society of America Annual Meeting in October. To learn more about this partnership, you can contact him at sveatch@fossilbeds.org.
-Melissa Barton
Photo Credits: Dr. Herb Meyer
Learn more about Sexi and Piedra Chamana at Bienvenidos a Sexi (Spanish).