Lowes Home Improvement and Fossil Craft Beer Choose to Support The Friends
Local businesses, from small family owned to the big boxes, receive a never ending stream of requests from the many Pikes Peak area non-profit organizations. They have to choose where to apply the limited funds they have available for donations.  The Friends were fortunate this year to be chosen as recipients of donations from Lowes Home Improvement store in Fountain and Fossil Craft Beer Company in Colorado Springs.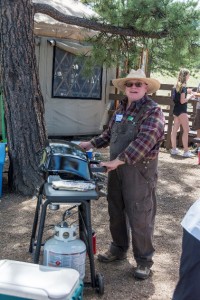 Early this summer, Florissant Fossil Beds Monument rangers recognized a looming disaster – the trusty barbeque grill they'd relied on had moved on and they were facing a summer without barbeque!  An emergency call was put out to the Friends to help rectify the situation before prime grilling season.  Friends members reached out to the Lowe's Home Improvement store in Fountain, who very generously offered up a new high quality grill for Monument use.  Thanks Lowes!!  If you have the opportunity, please stop in and tell the store manager thanks for supporting the Friends.
Grill master John Schwabe preps burgers for Rangers and Friends members on the new grill donated by Lowes Improvement store in Fountain Colorado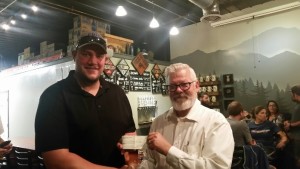 This year marked the 30th anniversary of the Friends of the Friends of the Florissant Fossil Beds, Inc.  Looking for the perfect venue to celebrate the occasion, Friends approached Josh and Megan Mater, co-owners of Fossil Craft Beer Company (just off Highway 24 at 31st St as you head out of Colorado Springs enroute the Monument) and asked if the Friends could hold the event there.  After a two pint planning session, it was decided to hold the event during one of their monthly Thursday night "Talk Nerdy" sessions, where the local scientific community is invited to give an informational presentation to patrons on a topic of interest.  Josh "sweetened" the deal by offering to donate one dollar for every pint sold that evening. Alex Lowe, an intern from Branson University in Manitoba doing research at the monument under the guidance of Monument Paleontologist Dr. Meyers volunteered to step up to the podium and entertained the audience with a 30 million year trip through the Fossil Bed's leaf history.  When all was done, Fossil Craft Beer Company presented a check for $150 to the Friends.  If you want a friendly environment to enjoy a darned good beer, stop by Fossil Craft Beer and support a local business that supports the Friends. Say hi to Josh and Megan and let them know that you are a "Friend".