There are many ways for people who care about Florissant Fossil Beds National Monument to help the park and the Friends.
Make a Donation
The Friends welcome and greatly appreciate additional donations, which can be made by mail to the address below, in person when visiting the Monument, or by clicking the 'Donate' link below.
Join the Friends
Be a part of the future of the Florissant Fossil Beds National Monument and join the Friends of the Florissant Fossil Beds, Inc. today. Your membership in the Friends of the Florissant Fossil beds helps to make possible the many programs and activities that support the Monument's educational, conservation, and scientific research objectives.
Membership Categories:
| | | | |
| --- | --- | --- | --- |
| Student | $10.00 | 1 Year Individual | $20.00 |
| 2-year individual | $35.00 | 1 Year Family | $30.00 |
| 2 Year Family | $50.00 | 1 Year Paleovespa | $500.00 |
| 3 year Brontothere | $1000.00 | 5 Year Sequoia Affinis | $5000.00 |
You can join now by selecting your membership category from the drop down list below and then clicking the "Pay Now" button.
(After completing the transaction, please click on the "return to fossilbeds.org" link and take a moment to fill out our survey to help us better serve the park and our members.)
You can also join by mail by downloading a membership application and mailing to the Friends address below.
Friends Membership application
Please make your check payable to:
Friends of the Florissant Fossil Beds, Inc.
And mail to:
Friends of the Florissant Fossil Beds, Inc.
P.O. Box 851
Florissant, CO 80816
Volunteer
Volunteering for the Friends and/or the Monument is a rewarding way to contribute your time and skills to helping the park. There are a variety of opportunities to suit anyone's interests and skills.
For the Friends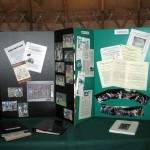 The Friends enthusiastically welcome volunteers to help organize and publicize events, raise funds, put out the newsletter, and otherwise keep the Friends active and effectively supporting the park.
Volunteers for special events are always needed. For more information on volunteering for the Friends, contact Sally Maertens.
For the Monument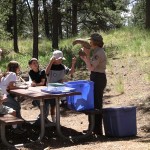 Volunteer positions are also available at the Monument itself. Many volunteers work with the public, interpreting the park's resources and staffing the front desk. Others work behind the scenes to maintain trails, photograph the park's museum collections, catalog the library, and perform other vital tasks. For more information about becoming a VIP (Volunteer-in-the-Park) at Florissant Fossil Beds National Monument, visit the park's volunteer website or call the park at (719) 748-3253 and ask for Jeff Wolin.